Abigail needs N4m, husband's 10-year salary, to settle bills
She was delivered of the babies through caesarian session three months ago in Fertilize Ground IVF Hospital, Jos, Plateau State and had been receiving treatment with the babies, who had to be in incubators for a month. Two of the babies later died but their bills are still charged.
The bills accumulating from the CS, incubation, drugs, accommodation and other charges, are estimated at N4million.
"Even if I save my salary for ten years without removing a dime for tithe or tax, I wouldn't raise that money," said Mr. Garba, Abigail's husband.
The two had been married since 1997, but had no child. It was a traumatic experience, said the couple.
"Even within the family, I was mocked and called barren. People made reference to me whenever they were talking about childlessness," said Abigail.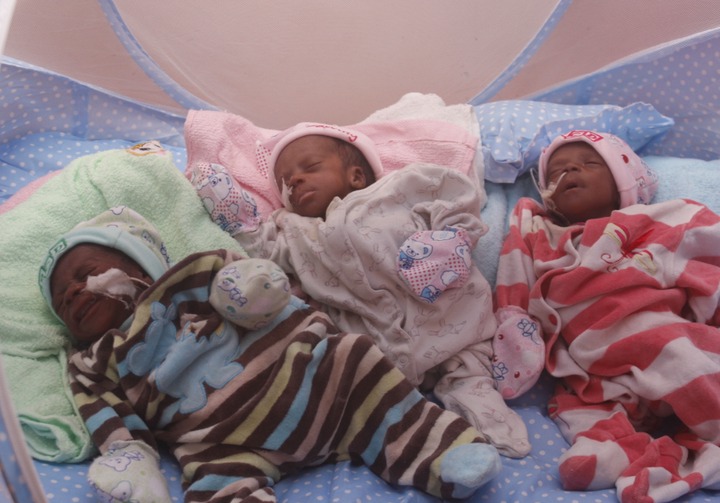 For Garba, "Not easy is an understatement," he said. "My confidence to stand and preach was almost eroded. How can you tell others to believe in God when they can clearly see that you have a need that he has yet to solve?" added the Cleric.
The announcement of the coming of the babies was "unbelievable", said the two.
"I almost did not believe it. I just couldn't fathom the miracle," said Garba.
Abigail on the other hand almost shedded tears of joy throughout the pregnancy. "I was just happy and I still am," she said.
Their happiness is however being extinguished by the bills which are still building, as long as they are in the hospital. Each day, a N3000 accommodation fee is charged. During the incubation of the babies, N5000 was charged every day for each child. Spendings are still made on a daily basis for drugs, food, diapers and other necessities.
With less than N55,000 net salary a month, Pastor Garba is in dire need of help. The littlest donation to his First Bank number 2018201897 would be the world of it. He could equally be reached on 07035241905 or you can reach me the author on 08062923239 (WhatsApp/signal/telegram only).