A woman happily carries a business equipment donated by Plateau Minority Leader, Friday
Over sixteen lawmakers have signed up for constituency interventions by the Plateau State Small and Medium Scale Enterprise Development Agency (PLASMEDA), Officials say.
PLASMEDA, the Central Nigerian State's business training and financing agency, is to provide training, finance and equipment for new and existing businesses in the House of Assembly members' constituencies, Mr. Haggai Gutap, the Agency's Director General, said, Friday.
The Agency, according to Mr. Gutap, has carried out the intervention in Jos North-North constituency, which Mr. Ibrahim Baba Hassan represents in the Assembly.
On Friday, a similar project was executed in Barkin Ladi Local Government, the constituency of Ibrahim Gyendeng, the Minority Leader of the State legislature.
"This is done without prejudice to tribe, religion or political affiliation," said the PLASMEDA Agency's Director General.
In an exclusive interview, Gutap said, "Poverty doesn't have tribe, religion or political party. The responsibility of this agency is to reduce poverty and make people productive irrespective of political party. We try to reach out to the people at the bottom of the pyramid.
"The Governor (Simon Lalong) is open to development initiatives, irrespective of political party and that's why the government is partnering with all the House members who are willing to empower their people through community Development projects."
Ibrahim Gyendeng, the member representing Barkin Ladi constituency in the State legislature, was among lawmakers who first applied for the intervention, revealed Mr. Gutap.
Gyendeng, a second-term legislator, focused on infrastructural development in his last tenure. "Now is time for human capital development," said the Lawmaker, choosing poverty alleviation as constituency project.
"I believe in capacity development and creation of opportunities for people to earn.
"I don't like people begging for money when I can create opportunities for them to earn on their own," he revealed.
Gyendeng, at his "agricultural empowerment" program on Friday in Barkin Ladi, gave out three truckloads of fertilizer to rural farmers. He also dished out 30 grinding machines, 30 sewing machines, 30 water pumps, an unspecified number of industrial hair dryers and electric power generators. The lawmaker also shared N10,000 business grants to 500 women and youths.
"Only a politician with a heart for his people will think of this," said Mrs. Laraba John, a poor widow displaced by herdsmen attacks.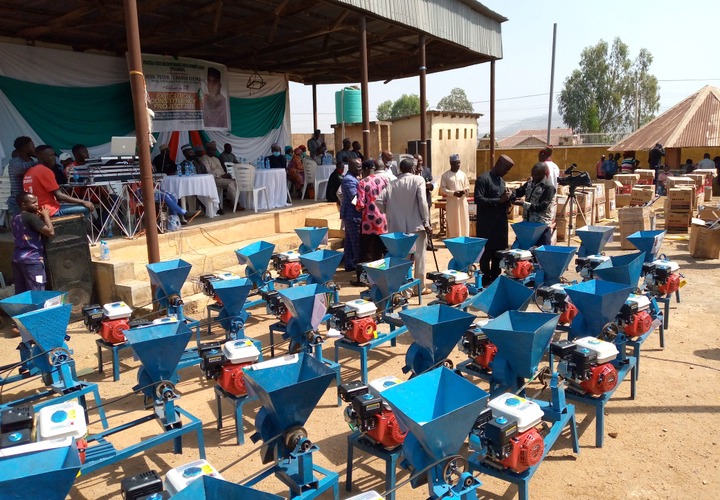 Nearly 200 widows and orphans, mostly victims of attacks benefited from the interventions.
Officials expect poverty rate to drop from its current 55.1% in the State by next year, following the release of the grants.