Sen. Hezekiah Dimka
Senator Hezekiah Dimka, representing Plateau Central in Nigeria's National Assembly, is a "silent achiever," with unspoken records of impact, a group of youths said, Saturday.
Dimka has been "identified as one of the few Senators the 9th Assembly relies on to push its agenda", and one of the most active members of the Red Chambers, the Coordinator, Coalition of Plateau Central Zone Youths (COPCZY), Ezekiel Jamok, said in a press conference in Jos.
"Since commencement of legislative activities by the 9th Assembly, one and a half years ago and in line with constitutional mandates, Senator Hezekiah Dimka, the Senator representing Plateau Central District has worked to push forth some initiatives/bills that appeal to the good people of Plateau Central zone.
"His actions are refined in response to public sentiments aimed at improving the people's values and specific welfare sectors manifesting his achievements which reflect his earlier stated legislative interests to include; education, security, agriculture, women and youth development," Jamok said.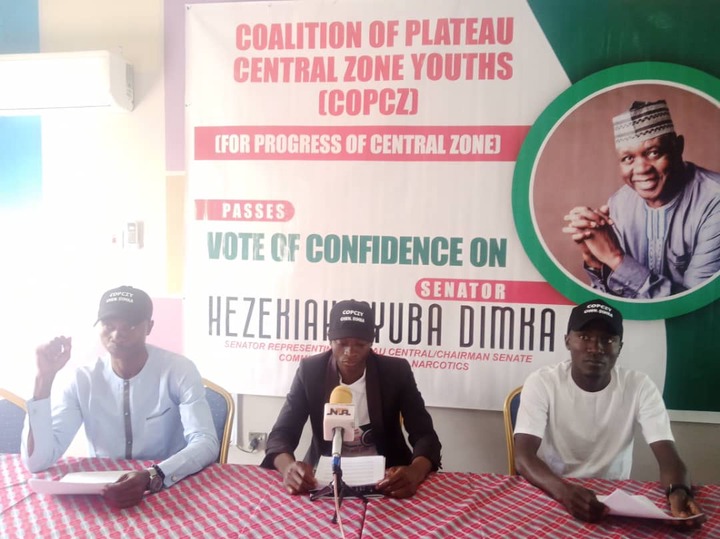 The Senator has recently been "disparaged," said the youth leader, by a group seeking his recall, but has remained "one to beat", said Jamok.
"Some of the bills he has sponsored and presented on the floor of the Red Chambers are Bill for the establishment of Federal University of Technology Kabwir (awaiting second reading), bill for the establishment of the Institute of Information and Communication Technology, Kanam (a degree awarding institution), and, bill for the upgrade of NDLEA Training Institute, Jos.
"Aside the constitutional mandate of law making, other projects he proposed, which we believe would benefit the people and have a direct impact on the communities are Construction of motorised solar boreholes, construction of four numbers of three block class rooms, skills development and capacity training for youth and women, supply of tri-cycles (Keke Napep) and motorcycles for youths, provisions of grinding, water pumping and knap spraying machines, provision of rural electrification/construction of solar street lights, and advocacy and sensitization on narcotic drugs and rehabilitation programmes," Jamok stated.
Other projects according to the youth leader are construction of Pankshin-Tapshin-Gambar-Sara-Kal-Gindiri Road networks, Construction of Panyam-Bokkos-Wamba-Wamba Road Networks, Construction of Pankshin-Ballang-Nyelleng-Sara-Lere-Gindiri Road Network, construction of Babban Lamba-Sharam Road Network, and Provision/installation of 500KVA transformer.
Journalist's eulogy
"The name Hezekiah Ayuba Dimka is synonymous with security," says veteran Journalist, Katdapba Gobum.
Dimka, the chairman, Senate Committee on Drugs and Narcotics can be as "engaging" as he reveals the quality of the elite police officer that he had being, says Gobum in a widely circulated online article.
The ex Police Commissioner is however not just all about social but also food security, Gobum wrote.
"He has longed to depart from the usual political crowd that has characterize our polity.
"No wonder, only recently, he came to the aide of farmers in the zone with fertilizers, knowing there cannot be anything worth giving than this in this season; even as he is aware the zone is populated by farmers.
"Those who were affected by recent disasters in some parts of the zone are remembered and not forgotten," the piece reads.
Political journey
Senator Hezekiah Dimka is of the Ngas tribe of Kabwir village in Kanke LGA of Plateau State. He was born in March 1952 at Kabwir.
Dimka attended the Nigerian Police College, got commissioned and rose to the rank of commissioner of police having served in different locations across Nigeria, notably in Imo and Delta states until his retirement.
After his service in the Nigerian Police in 2008, he joined politics to help Nigeria, his Constituency, Plateau Central in particular, to attain sustainable growth and development.
In 2018, he was appointed to the Tertiary Education Trust Fund (TETFUND) Board by President Muhammadu Buhari. He was later elected as a Senator representing plateau Central Senatorial zone under the All Progressives Congress (APC) in 2019.