Part of GSS Wokkos destroyed by rainstorm
Rainstorm on Saturday destroyed classrooms and staff offices in Government Secondary School Wokkos, 70kms east of Pankshin Local Government headquarters in Central Nigeria's Plateau State.
Wokkos is the hometown of former Deputy Chairman, House of Reps Committee on Information, Mr. Emmanuel Go'ar.
GSS Wokkos, formerly operating in present-day Primary School Wokkos moved to its current site with community donated infrastructure in 1996.
Until last four years when the Sustainable Development Goals added two classrooms and a staff office, the school operated in the community facilities, which were mostly renovated by Parents Teachers Association.
Likely due to weak structures, the Community buildings which had no doors or windows as of Saturday, were stripped of their roofs when rainstorm stroke.
Principal of the school, Mr. Goddy Yiluk told our Correspondent that no less than 80 students would be stranded by Monday when classes resume. Some 170 others were squeezed in undamaged classrooms, said the principal, but the measure might be unsustainable.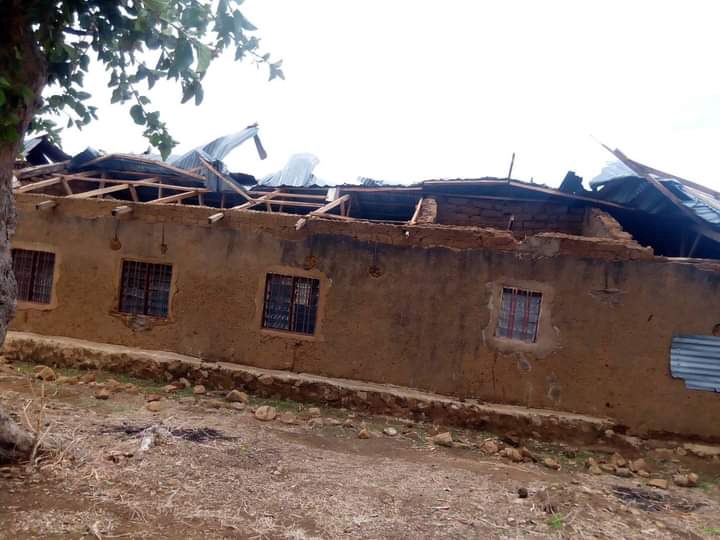 A youth activist and United Nations Youth Assembly representative, Mr. Gabriel Dewan fears that the displacements caused by the disaster might affect students preparing for final year examinations.
Efforts to reach the Plateau State Commissioner of Education (Secondary School), Mrs. Elizabeth Walmuk for comments were unsuccessful as of publishing time. Vanguard however quotes her as saying she was not aware of the disaster, but would take actions once officially notified.