A displaced family carries sacks of food donated by ECCVN, Saturday
More than two dozens of children below ten years old were Saturday rescued from what locals described as "disturbing" hunger epidemic in Central Nigeria's Plateau State.
Frequent herdsmen attacks in Bassa area of the State have in the last six weeks caused widespread displacements, and unprecedented food shortages.
Nearly 100 people were displaced from Zirshe village three weeks ago, when armed assailants rounded the village with severe gunfire, burning houses and food bans.
The survivors camped in an open community Hall in Kwall, 10miles from the attacked village, but without food or clothing.
Women and children slept on bare floor without blankets, while men stayed outside each night, watching the surrounding.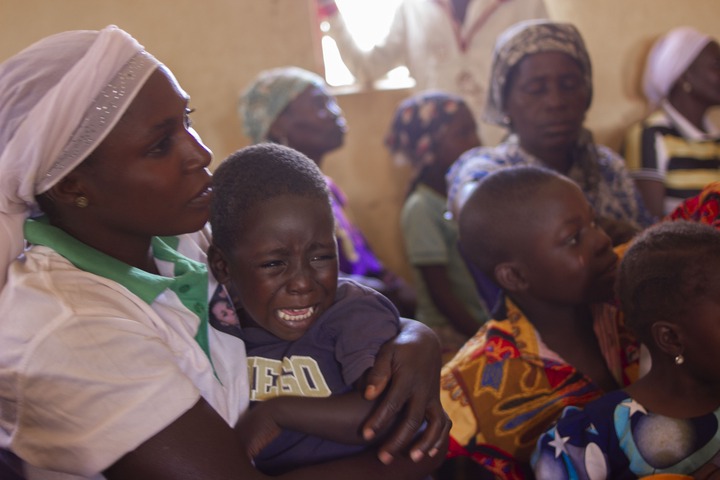 At daybreak, some adults took menial jobs to raise money for food. Children who are now unable to go to school due to insecurity, are mostly taken care of by the women. Sometimes the women themselves take menial jobs, or gathered and sold firewood to raise money. Whatever they got each day was however hardly enough for one square meal.
Touched by their plights, Emancipation Centre for Crisis Victims in Nigeria (ECCVN), a local humanitarian foundation on Saturday donated assorted food items, clothes and shoes, as well as cash to restart life.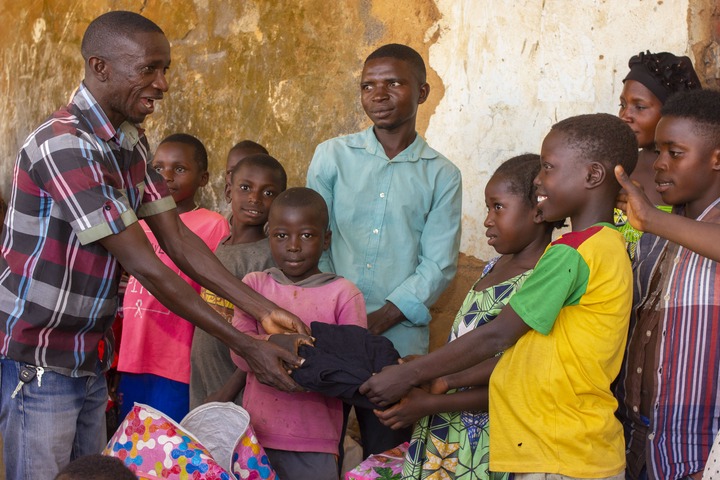 The package given to each family comprised grains, seasoning, cooking oil, toiletries, and among others, raw vegetables.
"ECCVN is deeply concerned by the plights of these IDPs especially the women and children," said the Chief Executive Officer of the foundation, Barr. Solomon Dalyop.
The donation, Solomon said was a temporary relief, but to the IDPs, it was a miracle. "We have not seen anything like this since we came here (IDP camp)," said a breastfeeding mother, Mrs. Asabe Musa.
Another IDP, a 13year-old school kid, Jethro Musa said "this was the first" humanitarian donation to the camp since they were sacked from their homes. "Fulani Herdsmen burned our houses and we had nothing to eat or pay our school fees with. The only food we can see now is the one brought to us by this group (ECCVN), said Jethro.
A local Pastor, Rev. Danlami Rigye near bursted into tears, out of joy for the donation. "Thank you and thank you so much. God bless you for this kind donation," he said.
A community leader, Mr. John Manga, said his brother died shortly after the displacements, but said he was comforted by the intervention.
"This was the second time they (herders) would attack us. They first attacked us few years ago and killed many people and now they returned. My brother died shortly after the invasion but if he could see this donation from wherever he is, he will be so delighted," said the community leader.
The attacks persisting since 2001 are "sickening", said lawmaker representing Rukuba (Bassa) constituency in the Plateau State legislature, Mr. Musa Agah.
"My constituency especially Irigwe chiefdom has become the epicenter of the attacks and the attackers are known, even the Securities know them – they are Fulani Herdsmen," said Agah.
Painful as it is however, such "demonstration of genuine human concern" by ECCVN is life-saving, he said.
ECCVN has done similar interventions in dozens of communities since establishment six years ago. The foundation cares mostly for victims of conflicts.
It is however proposing to reach out to among others, women widowed by the attacks, as well as resettle and empower some for business.
Mrs. Janet Sunday, wife of a Church elder killed few weeks after the delivery of her youngest child was given a truckload of grains and other foodstuffs, as well as children wears. She is specifically being considered for business Empowerment, but officials have yet to give details.
More than 600 people have been killed with over 100,000 others displaced by Herdsmen attacks in Bassa over the past three years, Paramount Chief of Irigwe, Rev. Ronku Akka told Officials from Plateau State Peace Building Agency last year. The attacks are mostly improved and on defenseless, civilian farming communities.